 
NEW Sea Eagle 370 Sport Kayak package
Bigger than the 330, suits up to 3 people, comes with PRO seats and an optional sail
Your details are always kept private and never shared with any supplier or other party whatsoever. We do not store or process card details on our site, please see our privacy policy for more.

The delivery price when you add to your cart is NOT final, it may be free, less or more depending on your final choice in the shopping cart, We will deliver within the time we state in your selection, or we will offer a refund of 10% on the item cost, excludes distribution costs.

Goods may be returned within 10 days of receipt (at buyer cost) in the event of a faulty product or product not matching description. Returns must be provided with visual evidence of the claim. Item must be in as the same condition as we shipped it.
About the Sea Eagle 370 Inflatable Kayak
This affordable inflatable Sport Kayak is as lightweight and portable as it gets, yet still remarkably stable and durable. It weighs just 32 lbs. and packs down small enough to fit in the smallest car trunk. Don't let the light weight fool you. It's a rugged kayak rated to hold 3 people or 650 lbs. However, it's best-suited space wise to accommodate two persons.
Most easily fits two adults.
Comes with
370 Hull
2 paddles
2 pro seats pictured
Repair Kit
Foot Pump
Carry Bag
Optional: Sail
Specifications 
| | |
| --- | --- |
| Person Capacity | 3 |
| Hull Weight | 15 kg. |
| Length | 381 cm |
| Width | 86 cm |
| Interior | 325 cm x 38 cm |
| Load Capacity | 3 Persons or 295 kg |
| Deflated | 79 cm x 48 cm x 20 cm |
| Chambers | 3 (port, starboard, floor) |
| Tube Diameter | 25.4 cm |
| Air Valves | 5 Deluxe One Way |
| Inflation time | 8 min |
| Seam | High Frequency Welded |
| Material | 38 mil PolyKrylar (K80 PVC) |
| Floor | Inflatable I-beam construction |
| Whitewater Rating | Suitable up to Class III |
| Inflation Pressure | 1.1 psi |
Certifications
Standard Features
NMMA Certified
Open and close drain valve
Five deluxe one-way valves
Sun & saltwater resistant hull material
Lashed down inflatable spray skirts
I-beam construction floor
2 skegs on the bottom for better tracking & speed
Bow & Stern Grab Line
Key Features:
Integral 5-Tube I-beam Floor

Several years ago we changed our floor construction from a 7 tube I-beam floor to 5 tubes. This greatly enhanced the paddling performance of our Sport Kayaks because the paddler sits higher and most of the weight is born by the floor, rather than the side chambers.

Because larger I-beam tubes have more rigidity than smaller tubes it also created a more rigid inflatable floor with natural chines which improve the speed and tracking of our Sport Kayaks, making it easier to paddle long distances whenever you wish.

Two Rear Skegs For Tracking And Speed

Tracking is very important in a kayak. Inflatable kayaks need skegs to track smoothly across the water - otherwise your paddling effort is wasted. Cheaper competitive boats without rear skegs just weave and wander across the water, wasting your paddling effort.

The Sport Kayaks feature two molded skegs - just like a surf board - so you go faster and further with less paddling effort! These skegs are made of an almost indestructible molded plastic that will not be harmed by hitting rocks or running up on the beach.

Deluxe One-way Valves On All Air Compartments

These Deluxe One-way Valves are simple and easy to use. A great improvement over traditional pipe valves which are hard to close, loose air easily and crack over time. Our Deluxe Valves come with an inner diaphragm which allows air to be pumped in without air escaping afterwards. The larger opening of the Deluxe Valves allows for rapid inflation and deflation. Comes with molded O-rings that can't be lost and a tether that will keep them attached to the hull at all times. Final seal is achieved by the outside cap for true air tightness.
Sea Eagle 370 Hull
Two 7'10" AB30's
Two Deluxe Inflatable Kayak Seats
A42 Foot pump
Carrybag
Small Repair Kit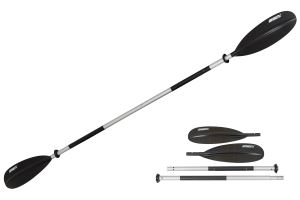 7'10" Double end asymetrical paddle is great for all our canoe, kayak and paddleski models. The paddle features aluminum shafts with Fibrylon blades. It has a 65 degree feather capability. Snap lock buttons to disconnect into 4 parts. Weighs just 2.62 lbs.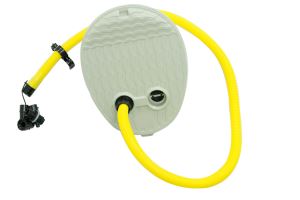 A high capacity foot pump made of durable ABS plastic that packs down for easy travel. Comes with a set of adapters. *For use with unsupported fabric (white) hulls only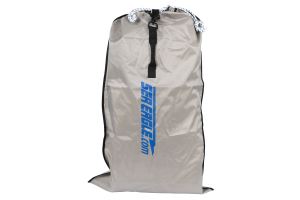 Great for storing or transporting your Sea Eagle SE330, SE370, SE8, SE9 and Wave Slider™. Recommended for a variety of accessories with larger Sea Eagle models. Made with heavy duty 440 denier nylon fabric. Measures 26"x48". Comes with convenient carry strap and drawstring.
*Only Sport Kayak and Motormount Boat Packages (minus the motormount frame and wooden seats) fit entirely into the Carry Bag. However we recommend the Carry Bag for use with a variety of accessories.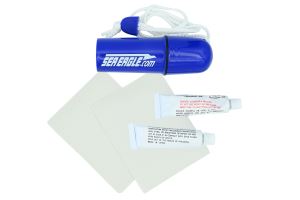 Repair kit for Motormount boats and Sport Kayaks. Includes two 4 in. x 3 in. white swatches of material and two tubes of glue.
You might also like